Materials and care
The jewelry is made of sterling silver 925s or sterling silver 925s plated with 18 carat gold.
The gold plating will fade over time. It is unavoidable, as gold plating and precious metals react with the oxygen in the air and the acid of the skin, and therefore not a reason for complaint.

Here are some tips to extend the life of your jewelry - whether it's gold-plated or silver.
Avoid sleeping, bathing and playing sports with the jewelry on.
Avoid direct contact with water, products containing chemical potassium such as e.g. oil, alcohol, perfume and oil/alcohol/perfume containing creams and soaps. This means that the jewelry's coating lasts longer.
Avoid leaving the jewelery in direct sunlight for a long time,
Avoid storing your jewelery in the bathroom - the moisture from the bath and the sink causes the jewelery to oxidize more quickly. Store them instead in the small jewelery box they come in, preferably in an airtight bag.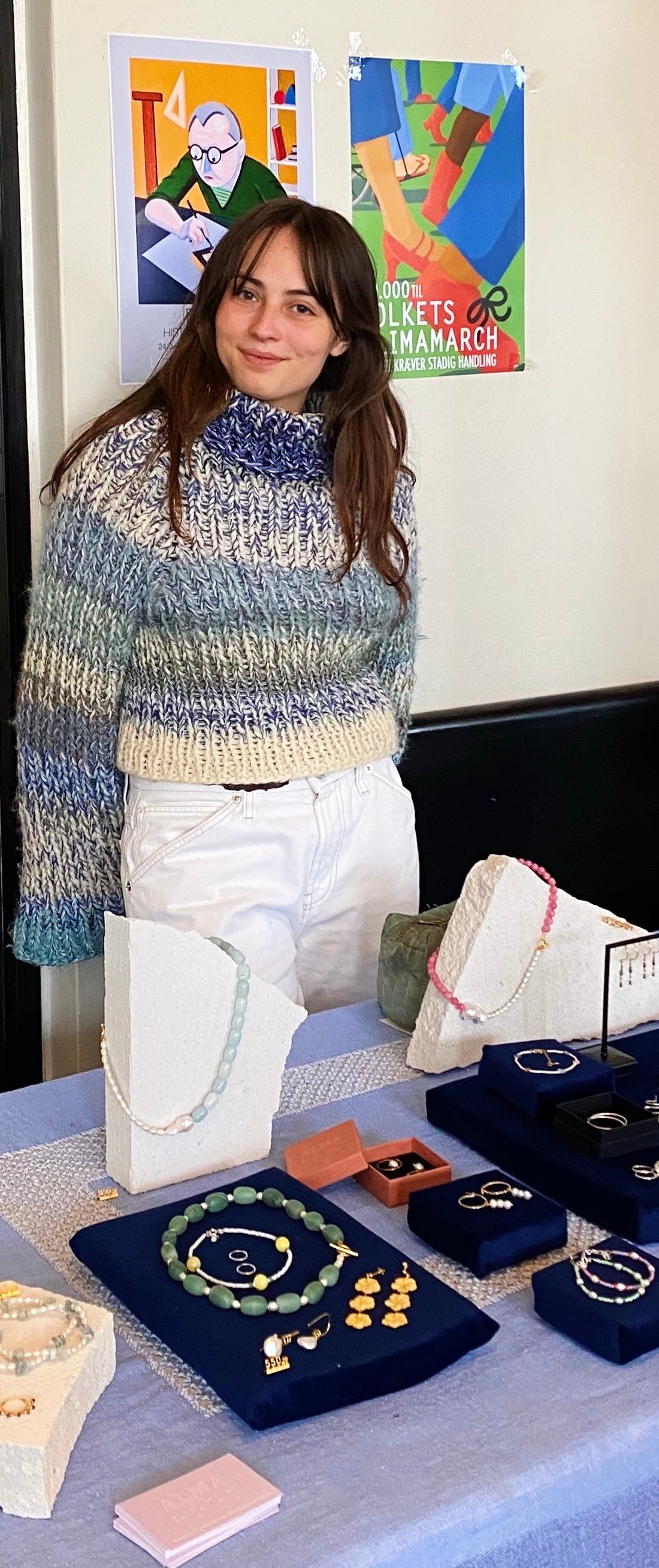 Om Alma Høm
Alma Høm er et smykkebrand, opstartet i 2016 i København. Alma Høm blev grundlagt med ønsket om at designe og skabe håndlavede smykker af høj kvalitet til mennesker i alle køn og aldre. 
Som håndværker er jeg altid på opdagelse i nye materialer, teknikker og farvekombinationer. Derfor fremstiller jeg selv hvert et smykke med kærlighed og nysgerrighed. Dette særligt med inspiration i præcolumbiansk og mesoamerikansk håndværk. Mine smykker fremstiller jeg udelukkende i ædelmetaller og oftest i kombination med ædelstene, halvædelstene eller ferskvandsperler.
Jeg har et stærkt ønske om, gennem mine smykker, at viderebringe ældre kunsthåndværk i selskab med bæredygtige kvalitetsmaterialer. Jeg anvender så vidt muligt 95% biosølv i mine smykker, hvilket indebærer at det er gammelt sølv der renses og genanvendes i nye smykkedele. Dertil sælges alle smykker i en lille fin æske med FSC-mærket for ansvarligt skovbrug. Alle materialer købes indenfor EU og overholder derfor EU lovgivning i henhold til ordentlige arbejdsforhold og overholdelse af menneskerettigheder. 
Button label