Dealers
Find a retailer near you below. Not all retailers have all items in stock, so please call the individual store if you are looking for a particular piece of jewelry.
Gungun Designshop
Kompagnistræde 25
1208 Copenhagen N
28 34 02 09
Fünf
Elmegade 2
2200 Copenhagen N
35 37 13 80

Kit Couture (stich markers only)
Vesterbrogade 165
1800 Copenhagen V
31 64 02 00
The Butterfly (stich markers only)
Vandkunsten 3
1467 Copenhagen
33 32 82 90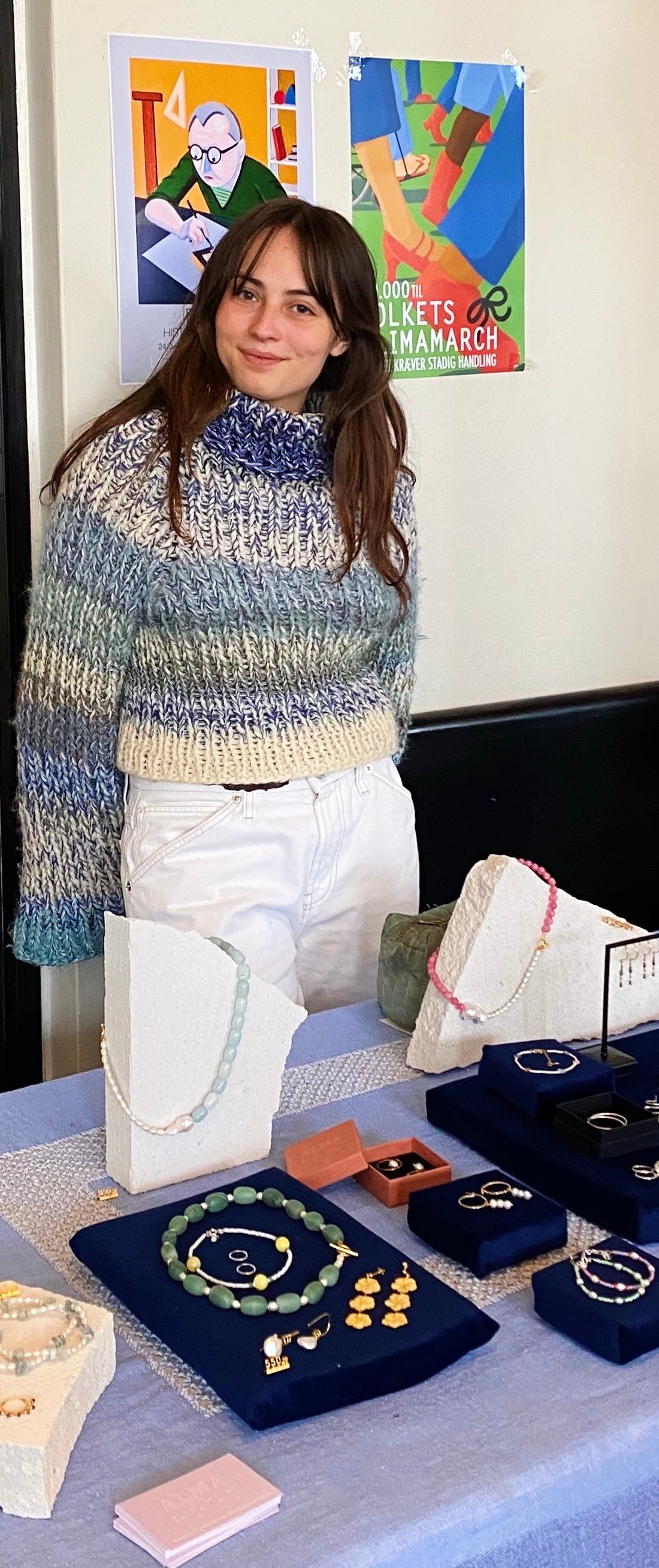 Om Alma Høm
Alma Høm er et smykkebrand, opstartet i 2016 i København. Alma Høm blev grundlagt med ønsket om at designe og skabe håndlavede smykker af høj kvalitet til mennesker i alle køn og aldre. 
Som håndværker er jeg altid på opdagelse i nye materialer, teknikker og farvekombinationer. Derfor fremstiller jeg selv hvert et smykke med kærlighed og nysgerrighed. Dette særligt med inspiration i præcolumbiansk og mesoamerikansk håndværk. Mine smykker fremstiller jeg udelukkende i ædelmetaller og oftest i kombination med ædelstene, halvædelstene eller ferskvandsperler.
Jeg har et stærkt ønske om, gennem mine smykker, at viderebringe ældre kunsthåndværk i selskab med bæredygtige kvalitetsmaterialer. Jeg anvender så vidt muligt 95% biosølv i mine smykker, hvilket indebærer at det er gammelt sølv der renses og genanvendes i nye smykkedele. Dertil sælges alle smykker i en lille fin æske med FSC-mærket for ansvarligt skovbrug. Alle materialer købes indenfor EU og overholder derfor EU lovgivning i henhold til ordentlige arbejdsforhold og overholdelse af menneskerettigheder. 
Button label